Let's all make Crosby PLASTIC FREE!
FoCB's wonderful band of volunteers are doing a grand job keeping the beach clean and safe for visitors and protecting the marine environment. However, we have realised for some time that this is not enough and that we must do what we can to make people aware of the harm that litter does. We love to see people enjoying themselves on the beach, especially in the summer with their picnics, but it always means lots more litter and we wish they would put their litter in the bins or, better still, take it home.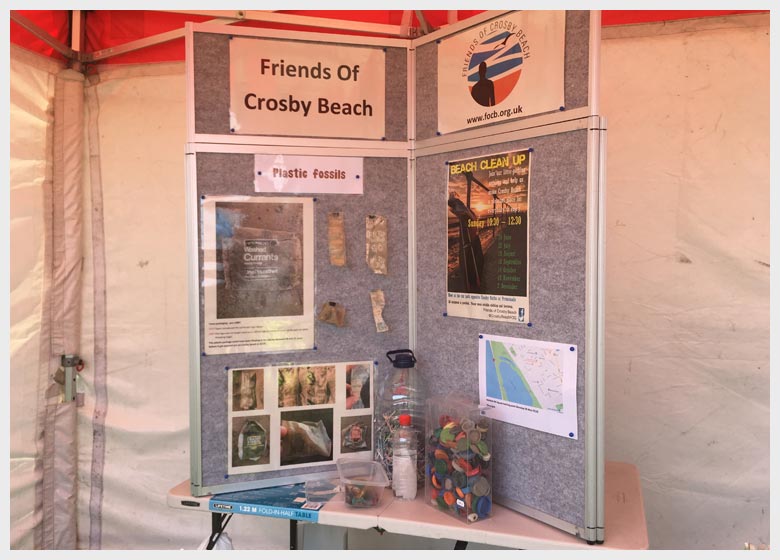 Single Use Plastic is the Number One enemy
We can all play our part by looking at our own plastic use and cutting down as much as we can. Not easy as everything seems to be made of plastic these days but every small step counts. David Attenborough is far more eloquent and persuasive than we could ever be – do have a look at his video on bbc.co.uk/plasticwatch.
Sefton Council recently unanimously passed a motion proposed by Cllr Diane Roscoe from Blundellsands ward to reduce its own use and the use of its partners, of single use plastic and to encourage the people of Sefton to switch to alternatives. Click here to read the motion.
Getting rid of plastic in Crosby:
We are absolutely delighted that a number of Crosby traders and groups are doing just this and we can encourage others to follow their shining example. See the impressive list below.

Cafe Vita at Crosby Baths – plastic free.
Crosby Coffee, Waterloo – takeaway cardboard coffee cups, paper straws.
Story House Café, Crosby Village – all takeaway products compostable materials.
The Workshop, Crosby Road North – bamboo food containers, brown paper napkins.
The Little Deli, Crosby , – cardboard boxes, bamboo forks.
The Good Catch, Crosby Village – plastic free, apart from forks which they are replacing soon.
The Little Macaron Shop, St John's Road – plastic free, saying, "Far too much plastic is in the world and it never felt right being part of the problem."
Caz's Kitchen, St John's Road – plastic free and facility to refill bottles, washing up liquid for now, but more will follow.
CAN, St John's Road – 100% vegan and plastic free.
Crosby Lakeside Adventure Centre – virtually plastic free in the Bistro.
Sainsbury's, Crosby – reusable bags (from recycled plastic bottles) for loose fruit and veg. No single use plastic bags.
McCormack's (formerly Tilly Mint) – Cooks Road, Crosby – plastic free and zero waste.
Little World, 2 Dunningsbridge Road – organic vegetarian café, loose fruit and veg, zero waste and non-plastic items for sale.
Root 22, Crosby Village – loose fruit and veg and no plastic.
Thank you to our volunteers who are taking the campaign into Crosby and helping to make it PLASTIC FREE!
National Campaigns

Nationally, good things are starting to happen. Micro beads have been banned July 2018 and there are moves afoot to ban plastic straws, cotton buds and plastic stirrers. 40 of our biggest companies have pledged to reduce their use of plastic and Iceland have already started by replacing all their own plastic packaging.
Starbucks and Costa Coffee are reducing their plastic use and, in many outlets – including Crosby – are encouraging customers to take their own mug. They will be rewarded with 25p off hot drinks.
Good news on the government proposal to ban plastic straws, cotton buds and stirrers from 2020. Keep up the pressure to make sure it happens!
There are a number of marine organisations which campaign nationally and are well worth supporting. Most of the ones here came to our marine awareness event. Do check out their websites, see what they are doing, sign their petitions and find out more about marine pollution.