Beach cleaning is great fun. Fresh air, exercise and the satisfaction of doing your bit to keep the beach clean and safe – what's not to like?!
Once a month on a Sunday morning 10.30 am to 12.30 pm, date depending on the tides. See the calendar for dates. We provide equipment and meet on the prom below Crosby Baths. If wet, meet under the canopy of the baths. If very wet and windy, we will cancel and will notify you on our Facebook page. Please come in suitable clothing and footwear for the weather. We love having children and dogs but they are the sole responsibility of the adults who bring them. We are covered by the Sefton Coast and Countryside public liability insurance and the RNLI vehicle cruises up and down, but we do ask everyone to take careful note of the health and safety guidelines displayed on the railings.
There are toilets and a café at the nearby Baths. Cafe Vita at the baths is plastic free!
2019 was another fantastic year from our fantastic volunteers, who clocked up a staggering 3485 hours between them, more than double the number in 2018 and that's despite having to cancel 2 Sunday cleans because of bad weather! This equates to approximately 67 hours per week, the equivalent of 2 paid workers! We collected 306 FULL BAGS – and by full, we mean just that as we combine the bags at the end so as to recycle them. We cannot thank you enough for turning out in all weathers, always cheerful and glad to play your part in keeping our beach clean and safe. We look forward to another phenomenal year in 2020.
In addition to all this, we helped Green Sefton with sand clearance, which will continue in 2020 and we are collaborating with Sefton Council Traffic Signal Team. As a result all their roadside display devices show a message once an hour for 15 minutes urging motorists not to throw litter out of cars to keep the streets clean and reduce plastic entering rain drains and reaching the sea.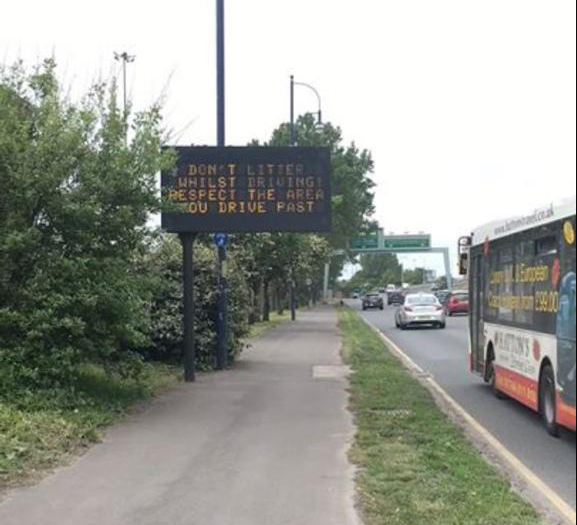 We organised a number of bespoke beach cleans for schools, firms and other organisations. If anyone else would like to come down in the week, please fill in the booking form on our Contacts page and we will do our best to accommodate you, bearing in mind that the team are all volunteers, most of whom work.
We understand that firms are given tax relief for sending their employees out on community projects like this and we would, therefore, ask them to make a contribution to enable us to buy equipment. Needless to say, we would not ask this of schools or non-profit organisations.