To mark its 150th birthday celebrations, all Sainsbury's stores across the country embarked on 150 days of community service. Friends of Crosby Beach were very proud to be chosen as the partnership organisation with the Crosby store. The manager, Mike Hayes, and a number of his staff have turned out at the regular Sunday morning beach cleans and the store has raised funds for equipment. The FoCB team will be in the store on Saturday 19th October with their display to talk to shoppers about what we do and to raise awareness of the harm that single use plastic does to our marine environment.
Vision for the Future of Crosby Coastal Park
Green Sefton (Sefton Council) want to:
Conserve and enhance the natural and cultural heritage of the coast
Adapt to coastal and climate change
Drive sustainable economic growth
Provide long-term health benefits
View the Vision they are putting forward and comment online at yourseftonyoursay.sefton.gov.uk This is our coast which we all value so make sure you have your say.
Afternoon of fun, information and creativity at this year's Marine Awareness event
Last year's Marine Awareness event, the first organised by Friends of Crosby Beach was really good, but according to those there for the second one on Saturday this was even better. The beach was buzzing with people, children and activity. There was a wonderful display of rubbish and plastic fossils by Hightown Beach Clean group and Tommy Norbury was full of praise for the event, saying it was "well organised, well attended and there was a lot of interest". LovemyBeach's Hannah Barnes said it was "good to see so many people who care about their beach, the marine environment and the planet" and this was echoed by Lancashire Wildlife Trust, Greenpeace, the RSPB and everyone there. At the Liverpool City Region Year of the Environment stall, lots of people filled in the pledge cards to make small changes in their lives to help the environment.
Liverpool University and the National Oceanographic Society brought their scaled-down model of WireWall and geeky fun was had with water pistols and Lego. The RNLI team was there, with their vehicle, to advise on beach safety and the Green Sefton Flood Defence team showcased their dunes mapping system. The two guided walks led by John Dempsey of Green Sefton were extremely popular, with just under 60 people taking part. He said, "It is always a privilege to show people the splendour of the Sefton coast, especially Crosby beach and the dunes."
As well as all the awareness raising about the urgent need to protect our marine environment, there was loads to do and create. A special feature was a temporary mural on the United Utilities wall, inviting children (and adults) to paint-stamp shoals of fish swimming in the sea. Another enjoyable activity was a sand sculpture of a gigantic turtle, complete with baby turtles. Practically every stall had creative activities, together with a treasure hunt, guessing the number of cotton buds in a jar and identifying piles of plastic rubbish, all collected from the beach.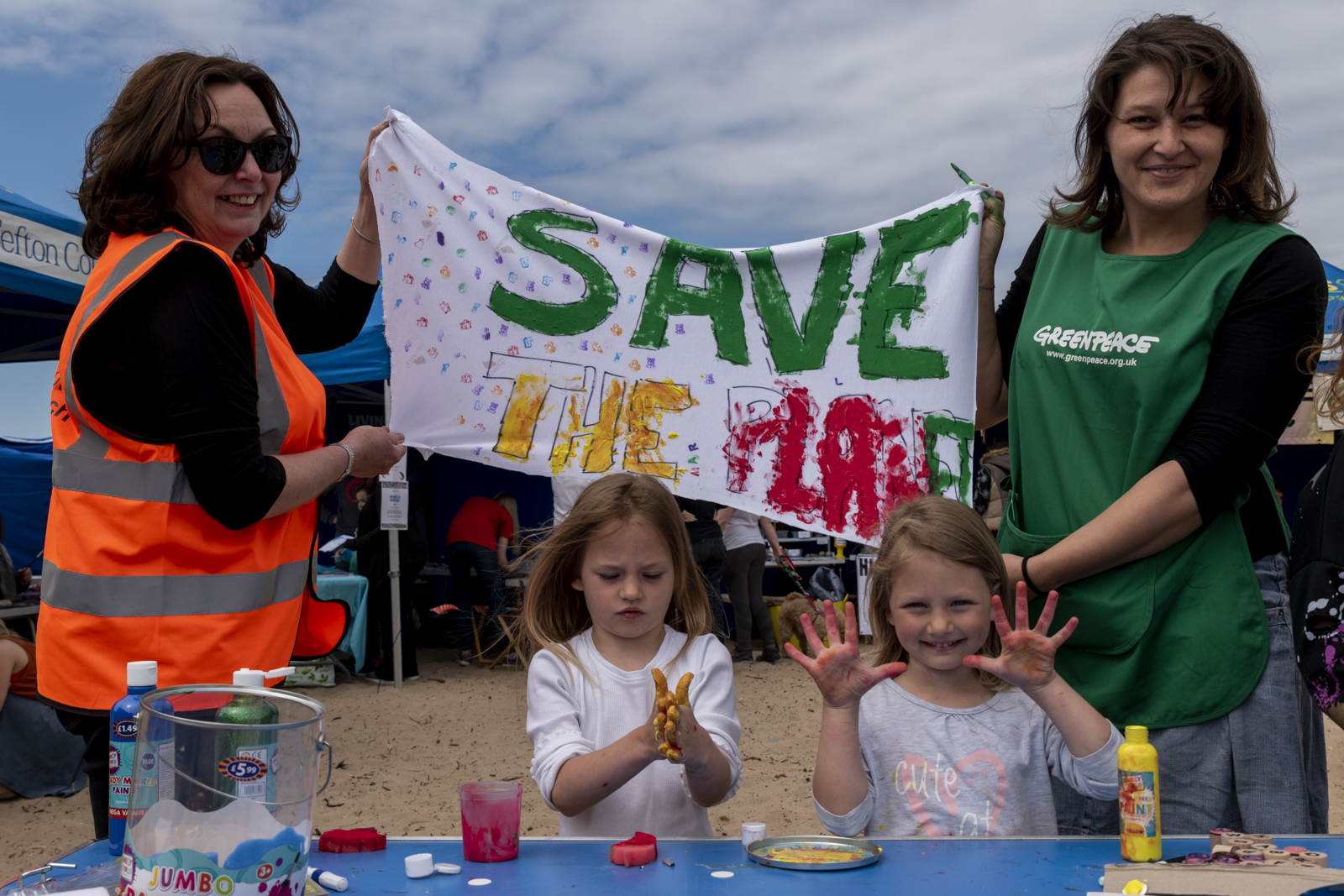 The final word comes from two young visitors. Evie, aged 10, pronounced the event "a very good idea because it is very good for the environment" and Amelie, aged 9, declared that "the beach is really important to people round here so it should be looked after." Which is exactly what the wonderful volunteers of Friends of Crosby Beach do at least once a month.
Raising much needed funds
We desperately need more equipment and clearly we have very little means of raising funds ourselves. Our volunteers do enough to clean the beach without having to raise funds. Blundellsands and Crosby councillors gave us a much appreciated start by buying us some equipment. After this we were very fortunate to be given donations by Unison in Waterloo, Sea Changers, Tesco Bags of Help and the Waterloo Festival and we are enormously grateful to them all.
2 Minute Beach Cleans
LovemyBeach have placed a 2-minute beach cleaning board outside Crosby Leisure Centre so that people can take some pickers and a small bag to pick up some rubbish as they go for a walk. What a great idea! Thank you to LovemyBeach and also to Crosby Leisure Centre for agreeing to put the board out and take it in every day.